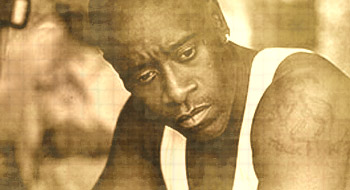 While Don Cheadle is one of Hollywood's best character actors, he also remains of the most underappreciated. Although he turned in memorable performances in HAMBURGER HILL and COLORS, it wasn't until 1995 when Cheadle played Mouse in DEVIL IN A BLUE DRESS that he would finally be recognized. In DEVIL, Cheadle stole the film with just ten minutes of screen time. He has since put together a solid body of work with an array of quality directors including Warren Beatty (BULWORTH), Brian DePalma (MISSION TO MARS), Paul Thomas Anderson (BOOGIE NIGHTS) and Steven Soderbergh (OUT OF SIGHT, TRAFFIC). Even his occasional forays into television have been met with success. His depiction of Sammy Davis Jr. in the HBO film THE RAT PACK won him a Golden Globe Award and an Emmy nomination. In the same year, he was also Emmy-nominated for another cable film, A LESSON BEFORE DYING.
Cheadle is currently starring alongside Nicholas Cage in THE FAMILY MAN. Later this year he will be starring in SWORDFISH with John Travolta and X-MEN star Hugh Jackman.
TRAFFIC is Don Cheadle's second picture with director Steven Soderbergh, after starring in OUT OF SIGHT in 1998. It is expected that he will be rejoining Soderbergh again this year in the high-profile remake of OCEAN'S ELEVEN.

HAMBURGER HILL
COLORS
PICKET FENCES (television)
DEVIL IN A BLUE DRESS
BOOGIE NIGHTS
OUT OF SIGHT
BULWORTH
THE RAT PACK (television)
A LESSON BEFORE DYING (television)

There is only one web site that I know of that is dedicated to Don Cheadle. Incidentally, it hasn't been updated in about a year. I know this because I run (ran?) it. I do, though, have every intention of redesigning it (with all new updates) sometime soon.