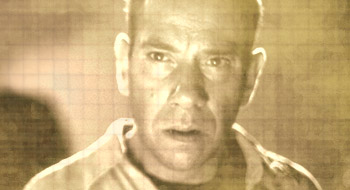 Miguel Ferrer stars as Eduardo Ruiz, an informant who is prepared to testify against Carlos Ayala (Steven Bauer) if he can get to the courtroom in one piece.
What can you say about this guy? He's great. Most people will remember Ferrer from ROBOCOP, but he has put together a long list of appearances in both television and film since the 1980s. One look at his filmography is not a good indication of his ability. Ferrer is often one of the most memorable parts of any project he is a part of (even the horrid BLANK CHECK is worth watching for his smarmy bad guy). For the last decade, he has decidedly had a better time working in television. He has appeared in several Stephen King mini-series and had a role on the critically acclaimed (but now canceled) "Late line". He will return to television in the coming year with "L.A. Sheriff's Homicide" written by crime writer James Ellroy.

ROBOCOP
TWIN PEAKS (television)
POINT OF NO RETURN
BLANK CHECK
THE STAND (television)
THE SHINING (television)
LATELINE (television)
TRAFFIC
L.A. SHERIFF'S HOMICIDE (television)

Below are a list of links for Miguel Ferrer. If there any you would like to see added, send an e-mail.